Are you dreaming of your next Greek holiday? Are you are missing the flavours of Greece? A mouthful of pure sunshine and love!
We found an on-line store where all of the foods come from (you guessed) Greece.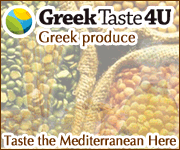 We are not going to claim it's as good as being here with the cool waters of the Aegean washing away your cares and the sunshine warming your bones. But if you can't be here, well you might as well enjoy some of the flavours of Greece.
What are your favourite Flavours of Greece?